Sensate Cooktops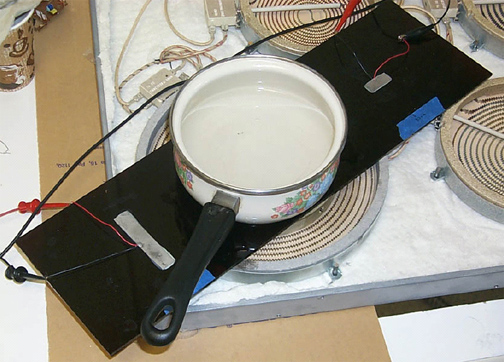 In association with our TTT sponsor Schott Glass, we have launched several different projects that look at sensing and actuating in glass-ceramic cooktops. In particular, our studies have encompassed:
A continuous capacitive slider for controlling burner heat (in contrast with the increment-decrement buttons that are now ubiquitous). See a video clip of our prototype in action here (4.6 Meg).
UltraLowPower, quasipassive wakeup of sleeping cooktop electronics.
In-glass haptic response for capacitive button presses (note that this work has been taken further by the Palpable Machines Group at the Media Lab Europe).
Remote temperature monitoring of the cooktop glass above the burners using passive IR emission and active acoustics.
Pot detection and characterization via electric field sensing.


Return to the Responsive Environments Project Page


Joe Paradiso
Lance Borque
Philip Bramsen
Matt Malinowski